INFO UPDATE – JUNE – Logo Announcement, Registration, & the Meaning of Community
We've got a handful of things to cover in this update, but let's start with the most exciting one!
NEW 2015 RWC LOGO
A month-long design contest sponsored by Museo Miraflores and Camtur, along with the RWC's primary partner INGUAT, ended with a large number of good logo choices but one clearcut winner, created by long-time Guatemalan graphic artist, Juan Enrique Arredondo.
Presenting the official logo for the 2015 Riverboarding World Championship in Guatemala: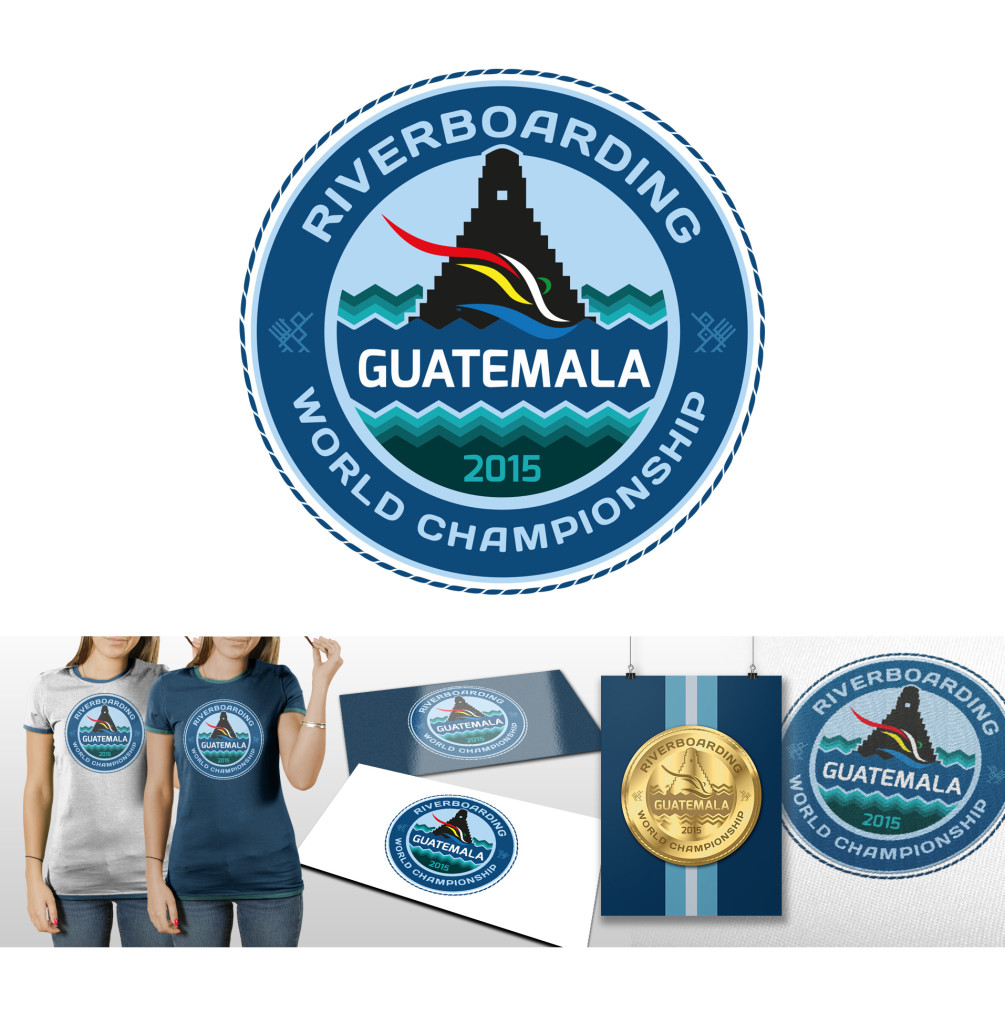 The logo incorporates the colors of Guatemala and a dominant feature of tourism in the country (Tikal), in a style that is uniquely Guatemalan. What do you think? We'd love to hear your feedback on our facebook page!
The 2nd, 3rd, and 4th place logos were also strong and you'll likely see them on event schwag which will be available in October.
Thanks to all who participated and to the amazing sponsors of the event: Museo Miraflores, Camtur, INGUAT, La Rocalla, Kuhl, and RIOS Guatemala.
---
QUESTIONS OF LOGISTICS
We've been receiving many questions about logistics, and I invite you to read the information currently on the front page of RiverboardingWorldChampionship.com, as most all of your questions are answered there regarding lodging, transportation, the event schedule, money, and more.
One question that has been arising though, is something we need to address clearly regarding the use of logistical services. Whether you are coming alone, coming with family, coming a day late or leaving early, we will not be making custom arrangements this time around for anyone. It is not logistically feasible to handle that for you.
We will provide all the information needed and answer your questions as completely as possible in order to aid you in securing your own transportation or lodging, if that is your choice.
However – and this is the key point – everyone pays the same for event registration, whether you use the event's logistics and services or not.
If you want to rent a car, or stay in a different hotel, or eat your own food, you are welcome to do that. But the registration cost is the registration cost for everyone, regardless of other choices you might make.
We strongly encourage you to experience the event with the Boarderhood via the logistics that we have worked tirelessly for a year already to set up, but you are also free to make your own way. Freedom is great, but we're not discounting the price along with it. 😉
REGISTRATION ENDS JULY 31ST
Have you registered yet? Based on our estimates, only about 1/2 of the athletes that have said they are coming have registered – if you're in the other 1/2 that hasn't, REGISTER HERE.
Registration is open through the end of July, and payment must be made in full by that time for all athletes and guests. For those who pre-registered, you will receive an invoice with the remaining balance which needs to be paid by the 31st.
That means there are only 34 days left from the time of this writing to get registered and lock in your spot for Guatemala!
The cost of the event for all athletes and guests will be $675 CAD (about $550 USD) + applicable taxes and fees*, which covers 8 days of all-inclusive adventure in Guatemala.
Get all the details here: REGISTRATION DETAILS & EVENT OVERVIEW
Finally, if you are an athlete still on the hunt for sponsorship, check out our helpful page HOW TO OBTAIN SPONSORS.
Keep reading below for a Charl's in-depth explanation of community and the connection with the colors of RWC icon (created in 2013 by Randi Roswenda from Indonesia).
Get registered, it's exciting to see your names come through on email and know that you're planning to be in Guatemala!
– Josh Galt
---
The Meaning of Community & the Colors of the RWC
– by Charl van Rensburg (DOWNLOAD PDF VERSION)
We are just a few months away from the second Riverboarding World Championship. The Event will bring together Riverboarders from all over the world to compete against each other but also, probably more significantly, to enjoy the opportunity to see old faces, meet new friends and of course to run some class whitewater.
The demographic of participants in the Event is as diverse as the location is exotic. National Champions, novices, men, women, young and old will all take to the water to experience the thrill of participating in a World Championship in the hope of being crowned the next Riverboarding World Champion. That is what a World Championship is all about, but not entirely. There is more to an Event such as this.
It is also an opportunity to unite with other members of our International Tribe, to spend time with other people who choose to run whitewater in this way, because we all seem to share certain characteristics:
Energy (Red)
Riverboarders are different to other whitewater enthusiasts. Rather than avoid being in the water, we immerse ourselves completely in it. We love feeling the raw energy of mother nature, the intensity of something that is at once powerful and graceful, to find ourselves in the flow to become part of it. We become one with the river's energy.
Boarderhood (Gold)
Some of us started Riverboarding with others as part of a club or a group of friends. Many others pursued the sport on their own, often faced with blank stares and even ridicule from those who just don't get it. Why would you place yourself in the most dangerous parts of a river, willingly, and how can you smile and enjoy it?
Technology has enabled us, Riverboarders from around the World, to connect with each other, to share ideas and experiences. We have become united, a group that recognises each other; even if we ride different types of boards, use different length fins and speak different languages. Our passion has united us. We have become a Boarderhood, a tribe that cannot be held by boundaries of nations or prejudices.
The Riverboarding World Championship allows us, the Boarderhood, to come together, share our passion and play a part in growing and developing the sport. It is not simply a competition, it is a celebration.
Environment (Green)
As people who pursue our passion outdoors in nature, we understand the importance of looking after the earth, the need to preserve the environment. We strive to do this, not simply from conviction but also because it makes sense. Our conviction is that we need to be good stewards of the resources at our disposal, but more than that. We also recognise that it makes sense for us to look after rivers, because that is our playground, the place from which we draw energy and enjoyment.
Rivers challenge, inspire and test us, it makes us feel alive and we want to draw this enjoyment from places that are pristine, places that embody the very thing we search after. Good, clean fun.
Rivers (Blue)
The waterways of the World are our playgrounds. Liquid rollercoasters; some steep and narrow, others wide and winding. We draw life from the blue veins that cut across borders and wash over lands. Meandering paths which both direct us and gives us freedom. Freedom to experience the thrill of discovery, like Explorers of old, never knowing what lies around the next corner or what will come after the next eddy.
That is why we go, why we tap into the pulse of the coursing waters to experience life on another level, briefly suspended in a state of equilibirium floating between the unknown and that which can only be known in this place, the heart of the river.
Purity (White or Black)
There is a purity to our pursuit. Something almost innocent in its simplicity. Putting ourselves in the midst of seemingly terrifying situations, with water gushing around us, rocks to the left and right, rain pouring down and somehow… in the midst of this torrential chaos we find peace. An inner calm, even when our hearts are racing and we have to concentrate so hard on facing the next rapid that nothing else can exist in that instant, only that which we are faced with right now.
Everything else is drained out, and in those flashes we experience some of the purest moments of our lives. We are more lucid, more in tune with ourselves and with nature. Intuition takes over from reason and we transcend ourselves and momentarily tap into something that is both much greater than ourselves and somehow part of us already. Purity.
Cheers,
Charl