2015 RWC LOGO DESIGNER JUAN ENRIQUE ARREDONDO
A month-long design contest sponsored by Museo Miraflores and Camtur, along with the RWC's primary partner INGUAT, ended with a large number of good logo choices but one clearcut winner, created by long-time Guatemalan graphic artist, Juan Enrique Arredondo.
Presenting the official logo for the 2015 Riverboarding World Championship in Guatemala: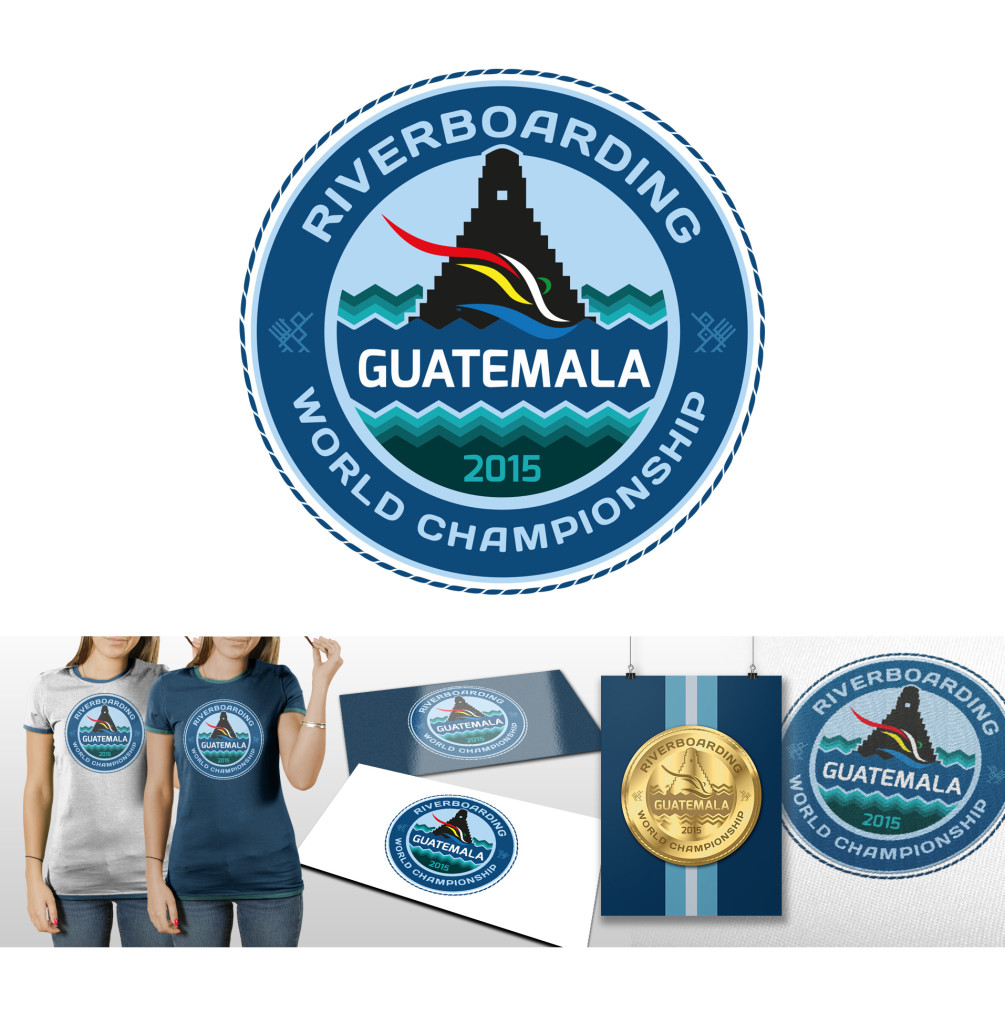 The logo incorporates the colors of Guatemala and a dominant feature of tourism in the country (Tikal), in a style that is uniquely Guatemalan. What do you think? We'd love to hear your feedback on our facebook page!
Use the translate feature in the right-hand column to read Enrique's bio:
BIO JUAN ENRIQUE ARREDONDO
Soy un diseñador gráfico autodidacta con más de 15 años de experiencia.  Mi especialidad, los logotipos y la imagen corporativa.  Trabajo como freelance para
99designs.com
,  bajo el nombre de Ars Designs, donde he ganado 33 concursos y he sido finalista en 93.
A nivel Centroamericano soy el responsable de la imagen corporativa de Motoshop VRC desde 2002, diseñando todo tipo de material publicitario y de imagen, desde las gráficas de las motos de competencia y las regulares, hasta los uniformes, cascos, material de pista, publicidad, logos, etc.
Colaboro para la Editorial Punto Creativo con quienes he diseñado varias portadas de libros, aproximadamente 20. Trabaje como Ilustrador del libro para niños "Daniel y las hormigas", lanzado en el 2014. Cuento también con una experiencia anterior de varios años en el mercado de las artes gráficas como distribuidor y proveedor de insumos.
En otras artes, he escrito desde el 2006 para el Blog La Pluma y estoy por lanzar el de Ars Designs. También me dedico a la pintura.
LINKS
Portafolio en carbonmade: (Una pequeña muestra)
Portafolio de algunas pinturas:
Thanks to all who participated and to the amazing sponsors of the event: Museo Miraflores, Camtur, INGUAT, La Rocalla, Kuhl, and RIOS Guatemala.
---